Early Intervention Services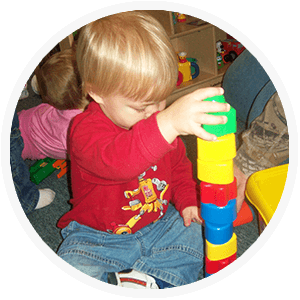 EI Team at DCDC- Enhancing Development Through Play.
While all children grow and change at their own rate, some children can experience delays in their development. Sometimes this can be a cause for concern. Early Intervention Services can help!
Danville Child Development Center is an Early Intervention System Provider for Columbia, Montour, and Northumberland counties. Early Intervention in Pennsylvania is a collection of services and supports designed to help families meet the developmental needs of their child. Early Intervention builds upon the natural learning occurring in those first few years, by enhancing play and family routines. These services can enhance a child's development.
Early Intervention Services and Support May Help:
Answer questions about child development
Improve physical, cognitive, social-emotional and language growth
Help children with developmental delays become more independent
Assist communities to become more aware of the gifts and abilities of all its children
Prevent the need for more costly intervention in the future
Birth through to Three
The first step is to have an assessment completed that identifies the child's strengths and delays. This step begins with a referral to the child's home county Early Intervention Program. through their office of Intellectual Disabilities. If your child qualifies for services, you can choose DCDC's Early Intervention Staff. We pride ourselves on a whole-child; family; team approach. Services are delivered in settings that meet the needs of each child and family. If you would like to have your child's services delivered while he/she is in the care of DCDC, but you live in another county, DCDC can be contracted by that county to provide services. These services are provided at no cost to families with children who qualify because the assessment has determined a need.
Services provided by the EI Team at DCDC include a Developmental Specialist (teacher), Occupational Therapist, Physical Therapist, Speech and Language Therapist, and Teachers of the Hearing and/or Vision Imparied. The staff at DCDC will also include these goals and objectives into their daily program for your child.
Three to Age of Entry to Your Local School District
A referral is made to the Central Susquehanna Intermediate Unit (CSIU), who will complete an evaluation. If your child is already enrolled in Birth to 3 Early Intervention, there will be a process to transition your child from one program to the other. CSIU teachers and therapists can provide services to children who qualify for their program while they are in their preschool classes at DCDC. An Individual Education Plan (IEP) will be developed for your child. These services are also provided at no cost to families whose children qualify. If your child is enrolled at DCDC, his/her therapist can deliver services during your child's time in the Center. The staff at DCDC will also include these goals and objectives into their daily program for your child.
If you would like help with a referral for your child or would like more information about the early intervention program, please call us at (570) 275-4047 and ask to speak with the Early Intervention Coordinator.